All people in Renfrew County and District should have the opportunity to be as healthy as possible. But health is influenced by a variety of factors, ranging from genetics and behaviours to the physical, social, and economic environments in which we live.
As defined in the Glossary of Essential Health Equity Terms by the National Collaborating Centre for Determinants of Health, health equity means that all people (individuals, groups and communities) have fair access to, and can act on, opportunities to reach their full health potential and are not disadvantaged by social, economic and environmental conditions, including socially constructed factors such as race, gender, sexuality, religion and social status.
Achieving health equity requires acknowledging that some people have unequal starting places, and different strategies and resources are needed to correct the imbalance and make health possible.
Health equity is achieved when disparities in health status between groups due to social and structural factors are reduced or eliminated.
It is important to understand that health equalities and health equities are different.
The illustration below of three children at a ball game provides an example of equality and equity. We are looking at the differences in the childrens'  opportunities to watch the ball game.
In the Equality scenario – everyone is treated the same way – each child has one box to watch the game (and this actually results in unfairness for the shortest child).
In the Equity scenario – everyone is treated fairly – the tall child doesn't require the box to see the game and the box is given to the shorter child. All three children now have the opportunity to see the game.
With equity, resources are allocated according to need rather than merely providing each with an equal share.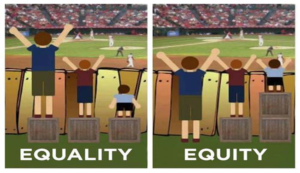 For more information related to Health Equity, please visit:
Certain factors beyond an individual's genetics and behaviours have an impact on health. These interrelated social, political and economic factors are called the social determinants of health (SDOH), and create the conditions in which people live, learn, work and play. These conditions influence opportunities for health.
Key Social Determinants of Health
Access to health services
Culture, race, and ethnicity
Disability
Early childhood development
Education, literacy, and skills
Employment, job security, and working conditions
Food insecurity
Gender identity and expression
Housing
Income and income distribution
Indigenous status
Personal health practices and resiliency
Physical environments
Sexual orientation and attraction
Social inclusion/exclusion
Social support networks
To learn more about social determinates of health visit the National Collaborating Centre for Determinants of Health.
As described in the Health Inequities in Renfrew County and District Report, individuals that live in more materially and socially deprived areas of Renfrew County and District are often more likely to experience health risk factors and poor health outcomes compared to those in less deprived areas.
There are many things that local, provincial and national organizations can do together to reduce health inequities, improving the chances that everyone can achieve lasting good health.
Health equity is a key consideration in RCDHU's current strategic plan. RCDHU continues to monitor local health needs to drive equitable community action, and supports collaborative efforts to recognize the needs of equity-deserving groups.
To learn more, see the report and other communication tools below: